Kano lost its first class emir
Tragedy as the new emir of Kano, Tafida Abubakar Ila, emir of Rano, has been confirmed dead after been admitted in the hospital for an unknown aliment.
Fatihu Bichi, his media aide confirmed this to TheCable, saying he died on Saturday evening.
Bichi said Abubakar fell ill on Friday and was taken to the Aminu Kano Teaching Hospital but was referred to Nassarawa Specialist Hospital due to lack of oxygen.
Rano is one of the emirates created by Abdullahi Ganduje, governor of Kano, at the height of his rift with Muhammadu Sanusi, whom he eventually deposed as the emir of Kano.
The real cause of the emir's death is unknown but it happened at a time when the state is battling unusual deaths.
Kano has been hit by a wave of deaths since it recorded its index COVID-19 case in April.
Sabitu Shuaibu, deputy coordinator of the task force on COVID-19, had reportedly said 640 persons died in the state within one week.
The spike in deaths had made many residents panic, with rumours making the rounds that they are from COVID-19 complications.
But the government dismissed the rumour, attributing the deaths to diabetes, malaria and hypertension.
President Muhammadu Buhari had ordered a two-week lockdown and a probe of the deaths.
The Kano state government and the Nigeria Centre for Disease Control (NCDC) later decided on verbal autopsy to ascertain the cause of the unusual deaths.
Verbal autopsy is a method of gathering information about symptoms and circumstances that led to the death of an individual in order to determine the probable cause of death in cases where there was no medical record or formal medical attention given.
41.3 percent of those who died in Kano during this period had fever — one of the symptoms of COVID-19.
Yusuf Yau Gambo, a lecturer at the department of mathematics, Yusuf Maitama Sule University in Kano, carried out a "community-based survey on reported increased mortality in Kano state," giving "possible explanations with data".
Gambo, an applied mathematician and data analyst, stated that the report, which has received attention from Kano COVID-19 task force, is an attempt to provide timely intervention to understand the situation and to halt false narratives.
The survey is based on a very small sample size of 260 households from over 17 local government areas.
Nasiru Gwarzo, head of the COVID-19 task force in Kano, says there is now a high rate of community transmission of the disease in the state.
Gwarzo told the BBC Hausa that a high rate of transmission, as shown by increased testing, is currently evident when compared to the former situation.
He said unlike before, about 80 percent of the samples received from communities in the state turned out positive for COVID-19.
Kano, which recorded its first case of the disease about three weeks ago, now has 311 confirmed cases, making it the second worst-hit state.
Inspector General of Police Shuns Aisha Buhari
Aisha Buhari the first lady of the federal republic of Nigeria has been kept calm and mute by the inspector General of Police Mohammed Adamu as he ignored her plead over the release of her Aide who is in custody.
Just as the as children of the President, Major General Muhammadu Buhari (retd.) have declared war on the Private Secretary to the President, Yusuf Sabiu, aka Tunde, who is a nephew to the President.
He said, ''Tunde met the NNPC GMD, Maikanti Baru, who recently died of COVID-19. He also visited several other places. Instead of going on self isolation, he decided to return to the Villa and he is one of the few aides that has direct access to the President.
"The President is almost 80 and he is very vulnerable given his medical history. We advised Tunde not to see the President but he refused and forced his way into the Villa. He was able to get the First Lady's aides arrested because of the influence he wields.
"We have a rule in the Villa that those who have direct access to the President should reduce their engagement with people. Even the new Chief of Staff, Prof. Ibrahim Gambari, has been adhering to the rule but Tunde seems to be a law unto himself."
When asked whether the First Lady's aides had been released, the President's relative said, "As I speak to you, they have remained in custody, exposing them to possible infection of COVID-19."
Meanwhile, it was learnt that the President's wife and children had declared a war on Tunde, who some claimed was beginning to wield as much influence as the President's late Chief of Staff, Abba Kyari.
Tunde, who was nicknamed after Buhari's late ally, Gen. Tunde Idiagbon, is the son of Mamman Daura's sister.
It was learnt that with the battle line drawn, there was expected to be more crisis in the Villa.
According to reports, it war reported that Aisha had, on Friday, called on the IG to immediately release her aides who were reportedly detained based on the orders of the Chief Security Officer to the President, Idris Kassim.
Sabiu, who is one of the most powerful aides to the President, allegedly got the CSO to arrest Aisha's aides, including her ADC, Usman Shugaba.
"Finally, I call on the IGP to release my assigned Staff who are still in the custody of the police in order to avoid putting their lives in danger or exposure to COVID-19 while in their custody."
In a related development, the Peoples Democratic Party has raised the alarm over reports of gunshots and a breach of security within the Presidential Villa.
Diezani escaped Nigeria and became Commissioner in Dominica
Diezani escaped Nigeria and became Commissioner in Dominica.
Fresh details have emerged of how Nigeria's former Petroleum Resources Minister, Diezani Alison-Madueke, plotted her escape from Nigeria in the twilight of the Goodluck Jonathan administration in 2015.
In a document shared with Pulse from the office of the Economic and Financial Crimes Commission (EFCC), Diezani who is still on trial for corruption back home in Nigeria, lobbied to become Trade and Investment Commissioner of the Dominican Republic and bagged a diplomatic passport from the island government to boot.
"With the diplomatic passport, she is immune to arrest by any law enforcement agency, including the Interpol," one EFCC operative who asked not to be named in this story, tells Pulse.
"Before leaving office on May 28, 2015, she had perfected a script with the office of the Prime Minister, Commonwealth of Dominica.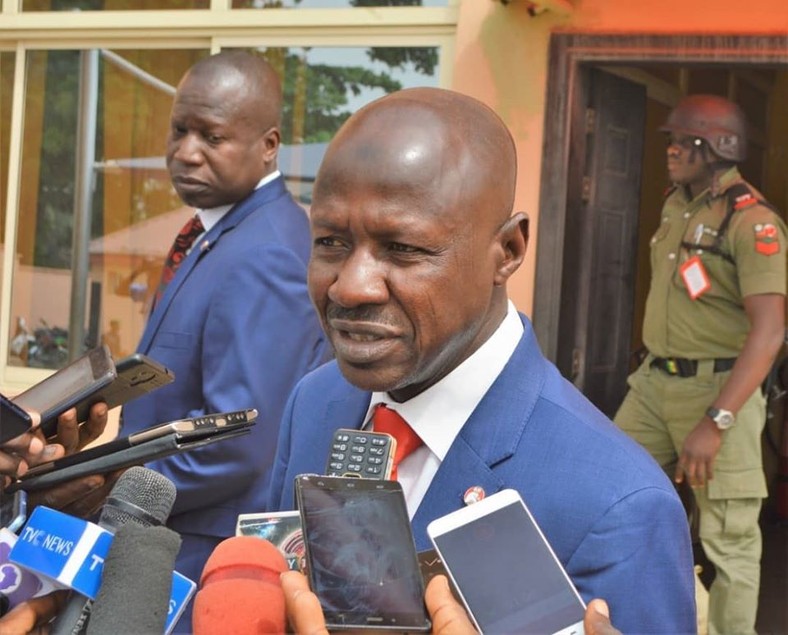 Ibrahim Magu wants Diezani returned home for trial (EFCC)
"She lobbied to be appointed as Trade and Investment Commissioner with effect from June 1, 2015.
"The lobby actually worked. In a letter dated May 29, 2015 and signed by Prime Minister Roosevelt Kerry, Diezani was offered not only the citizenship of Dominica, a Caribbean Island, but also an appointment as Trade and Investment Commissioner.
"A diplomatic passport issued on May 21, 2015, with an expiry date of May 20, 2020, came with the offer of appointment," the document from the EFCC reads.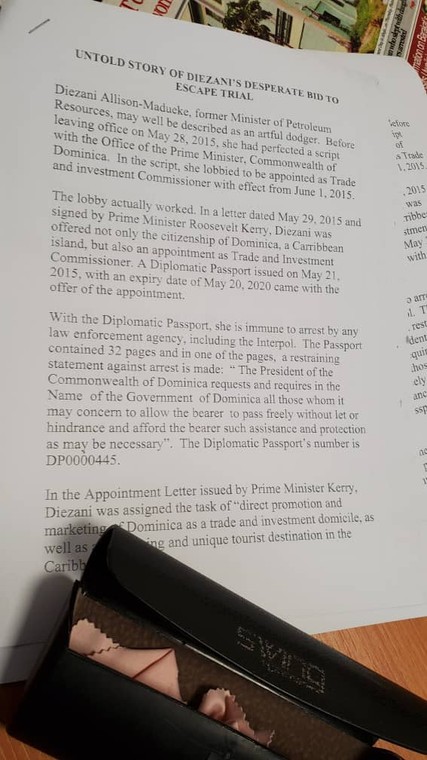 EFCC document on Diezani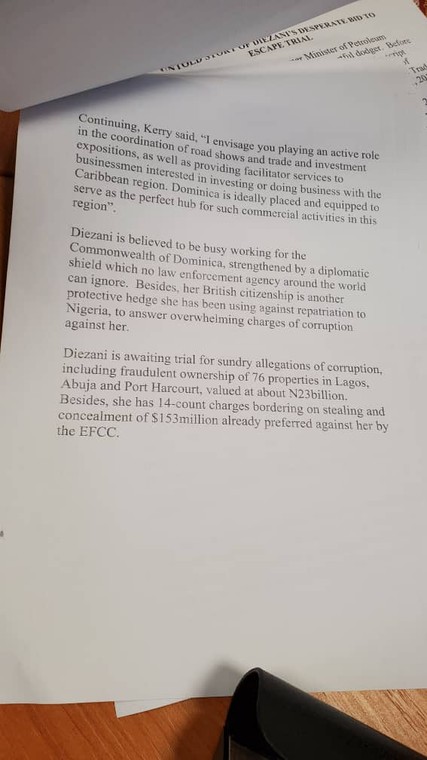 It adds that "the passport contained 32 pages and in one of the pages, a restraining statement against arrest is made."
The restraining order reads as follows: "The President of the Commonwealth of Dominica requests and requires in the Name of the Government of Dominica all those whom it may concern to allow the bearer to pass freely without let or hindrance and afford the bearer such assistance and protection as may be necessary."
Diezani's diplomatic passport number is given as DP0000445.
In the appointment letter issued by Prime Minister Kerry, Diezani was tasked with "direct promotion and marketing of Dominica as a trade and investment domicile."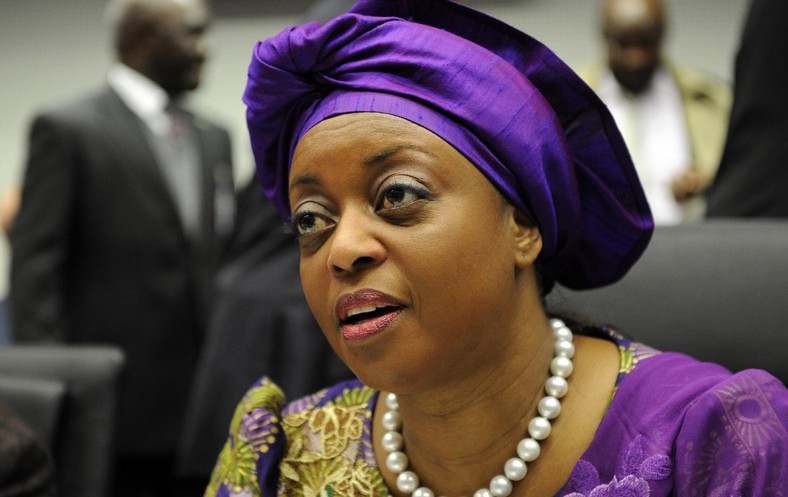 Diezani has been accused of grand scale looting during spell as minister in Nigeria.
It is believed in intelligence circles that Diezani now works for the Commonwealth of Dominica.
"She is strengthened by a diplomatic shield which no law enforcement agency around the world can ignore. Besides, her British citizenship is another protective hedge she has been using against repatriation to Nigeria, to answer overwhelming charges of corruption against her," the document further states.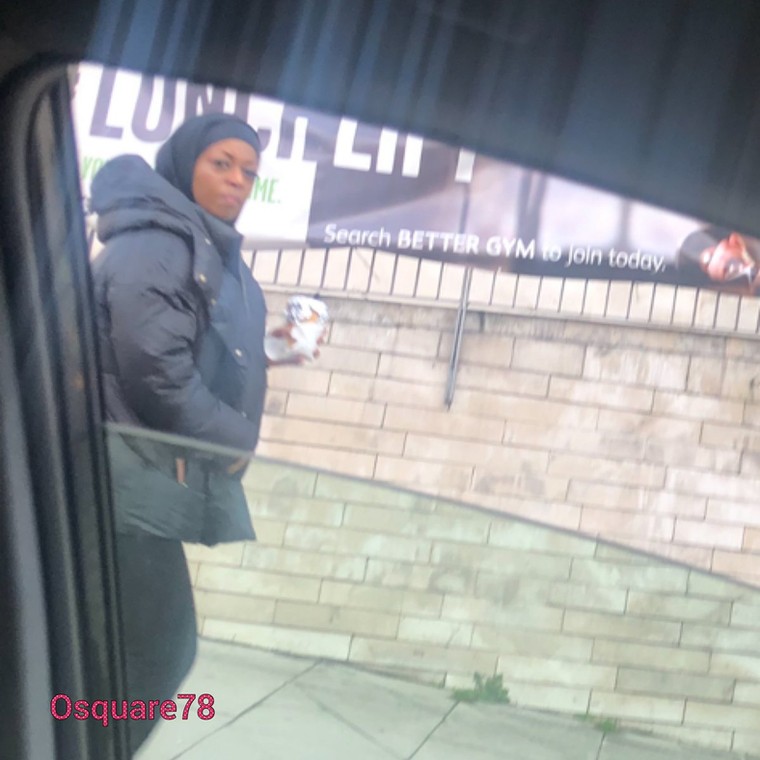 Diezani spotted taking a stroll in the park in London
Diezani fled Nigeria for the U.K as soon as Jonathan lost the 2015 election to Muhammadu Buhari.
Unconfirmed reports say she has been treating cancer in the UK, even though EFCC sources believe the cancer stories have been planted in the media to buy her more time as she continues to evade arrest and prosecution for alleged corruption.
Several attempts by the EFCC to trigger an extradition treaty with the UK and have Diezani return home for trial have met a brick-wall.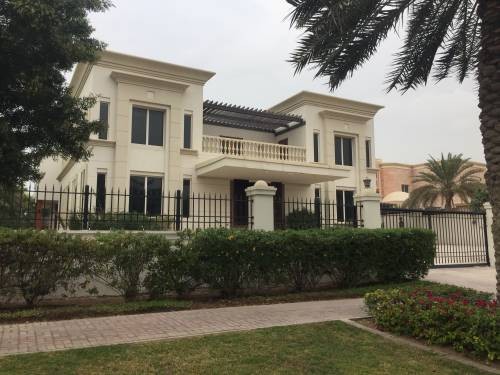 One of the luxurious homes of Diezani Alison Madueke (Guardian)
Among other acts of corruption, the former minister has been accused of fraudulent ownership of 76 luxurious property in Lagos, Abuja and Port Harcourt, valued at N23 billion.
14 charges bordering on theft and concealment to the tune of $153 million, have been filed against her by the EFCC.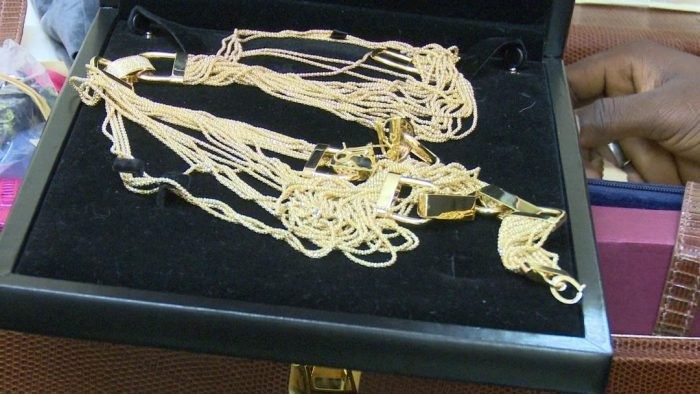 Some Jewelry seized from former minister, Diezani Alison-Madueke [EFCC]
Raids on some of her homes in Nigeria have revealed gold jewelry and wristwatches worth millions of dollars.
Some of Diezani's alleged accomplices and cronies have been facing trial in Nigeria.
Agbeka Daniel Victor "It's an abomination for a female to become President"
A Nigerian man identified as Agbeka Daniel Victor, has reacted to the viral photos of Croatian President, Kolinda Grabar-Kitarović at the 2018 world cup in Russia, saying that he is against such political moves.
According to him, it's an abomination for females to become president of countries but they can preferably become Vice Presidents.
Read his post below;
Despite her simplicity as a president i still don't support female becoming the president of a whole country NEVER, females can preferably become Vice president is approved but female becoming the head of Nation is an ABOMINATION.
Checkout countries women are ruling as president marital deficiencies are always HIGH.
MY REPLY TO ALL ABUSIVE COMMENTS AGAINST MY STAKE ON SOCIAL MEDIA: Agbeka Daniel Victor
First I thank God I'm not an illiterate, the last time I checked the bill against freedom of speech was not signed and every man is entitled to his own opinion and stakes.
I never expected everyone to be happy when leadership matters comes up especially when it's against females leadership, some females and males took it personal some persons abuse me, some unfriend me while some are so disappointed and very angry with me, all the reactions are normal in human and I'm not against that.
Equality between male and female is good I'm not against that but differences must be stated clearly.
I'm a researcher and I have more than 1000 proves, recommendations and acknowledgments to backup my stake on this matter.
I discovered in this generation and century that females are really fighting so hard to gain equality and rule over males, if females wins this fight all the males that supported them will be doomed except me and persons against it.
God made it clear that female's nature is to be submissive to the males not the pervert.
If female rule as the head of a nation "females will lose their pride and males will lose their place" females proposing marriage to males will be common.
Thank you.
In this century, we are carried away by imitation and modernity.
Some persons are afraid to say the truth because of crucifixion and abuse.
So long I'm alive i will always stand by the TRUTH no matter how bitter it is.
Few Reasons Why Women Should NEVER Be Allowed To Run For President.
00. Heavy thinking, standing as the head and decision making are made for the men. Women should leave men to do their job.
" I, personally, will NEVER vote for a female presidential candidate be it my wife or my mother In fact women shouldn't be allowed to run for president in the first place! Women are far too incompetent for the job — for a number of reasons! There are just certain things about women that make them too unqualified — like periods, feminazi, and hormones to name a few"
Read on for more reasons why women should never be allowed to run for president.
1. What if she gets her period or got pregnant and like, tries to start a nuclear war? We all know how crazy women could be in those period.
2. Hormones!
Everyone knows that all women are crazy! They have all of those weird hormones that make them act insane all the time. Men DEFINITELY don't have hormones, that is why they are so much better suited to be president.
3. Why change history?

Men have run this world since the beginning and absolutely nothing has gone wrong during that time, so why change a good thing?!
4. What if she tries to focus on stupid, unimportant "issues" like "women's rights?"
5.What if the female presidential candidate is a feminazi? All feminazi's want is to take away men's right or even do worst we all know how feminazi hate men and wants to takeover the world, electing one as a president will lead to unspeakable disaster.
6. Women are already allowed to vote and work isn't that enough? Why give them more power? It will only go into their head, men are the only gender capable of gracefully handling power without losing their heads about it- Agbeka Daniel Victor.
Did you know that United States still doesn't have a female leader, as it hasn't for the last 227 years? Ask why.
Thank you.
Supposing President M. Buhari is the worst president Nigerians has ever produced and he is coming for second term then my wife or my mother is the presidential candidate opposing him.
I will still support BUHARI.